Pizza And Wing Deals
Deals & Coupons
Pizza Deals, Coupons And Specials Near You
Welcome to Orlando's top family-owned pizza restaurant. Our bread-and-butter is and always will be creating authentic, fresh Italian food and New York style-hand crust pizza and delicious wings. Our food is made with the freshest ingredients available and costs less than what you'll pay at the chains. If you are tired of getting the same old same old, try some authentic NY-style pizza and wings.
Pizza Delivery Near Disney World
If you are looking for a pizza place in Orlando that offers cheap pizza delivery (without sacrificing anything in terms of taste), we've got your covered at NY Pizza And Wings. We deliver pizza in Orlando, Florida Disney World region for hotels and resorts. Though we are located in Kissimmee, FL, we are less than two miles from most every Orlando resort or hotel out there. We are fast and great at what we do, so you'll be sure to have your piping hot, delicious pizza at your door in almost no time at all!
Depending on the resort or hotel rules, we might not be able to deliver to your room, but we'll be able to meet you in the lobby with no trouble at all. What's more, we are open late for dine-in, pickup, and delivery. Every pizza we offer is made fresh and cooked to order.
Specials, Deals, And Coupons
Below you will find our pizza coupons, specials, and deals that we have running at our Orlando pizza restaurant. If you've been looking for "pizza delivery near me" in the Orlando region, we've got you covered with more than just great ingredients and fast delivery times — we'll help you save some money too! If you're on vacation with the whole family, we understand that every bit of savings helps! Contact us today for the best Orlando pizza around!
For fast delivery or carryout, and the best prices, check out our featured Pizza & Wings deals below: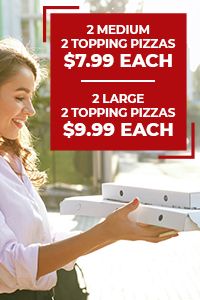 7.99$
GET 2 MEDIUM 14 INCH PIZZA UP TO 2 OF YOUR FAVORITE TOPPINGS FOR 7.99$ EACH
(delivery, carryout, online, or over the phone only )
9.99$
GET 2 LARGE 16 INCH PIZZA WITH UP TO 2 OF YOUR FAVORITE TOPPINGS FOR 9.99 $ EACH
(delivery, carryout, online, or over the phone only)